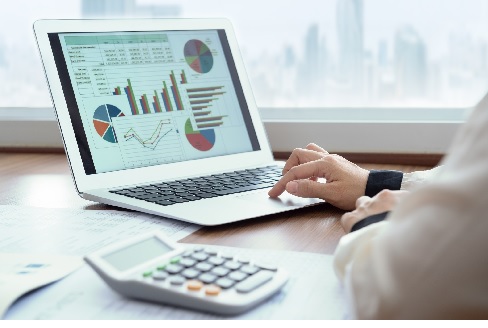 Looking for the best Accounting Software for your business? finding the best financial accounting software is now faster and easier! you can compare prices,  check reviews, scrutinize features, and consultation to find the perfect software at free of cost.
Maintaining and keeping track of financial records is essential irrespective of how small your chartered accountant firm is. It helps you keeps your finances organized and get information about your revenues and profits.
To do that, you need a financial accounting software in India. These tools enable you to achieve the above thereby eliminating manual accounting. Now, there are numerous programs available in the market making it difficult to come to a specific choice. Selecting the right one can become troublesome and time-consuming.
What is Accounting Software?
If you are searching best accounting software in 2021 then you must aware about what is accounting software but, well accounting software is an application that helps in recording and processing of the accounting transactions within functional modules and also, storing and managing accounts by performing arithmetic or accounting operations.
The following are the best accounting software packages in India 2021: 
1. Busy Accounting Software
Busy Accounting Software is an all-round program for SMEs with GST, sales, purchase, payroll, currency, etc. management. The user-friendly UI comes with minimal operating costs that ensure your expenses don't reach sky-high.
Some of the unique features of Busy Accounting Software in India:
Fixed asset management
Compliance management
General ledger management
Financial management and forecasting
Budget and controlling management
Few of the standard features that this program comes with are MIS reports and analysis, user-configurable documents and letters, user-configurable invoicing, order processing, multi-location inventory, etc.
2. Zoho Books
Zoho Books account software is specially designed for small businesses; it comes with features which makes it useful for a CA firm. The software has exceptional attention to detail, an efficient UI, and numerous essential functions that make it one of the best.
You can schedule and manage your tasks and assignments. Its dashboard also provides an overview of your financial records through graphs.
Some of the features of Zoho Books include:
Handle returns and refunds.
Collect deposits and advance payments.
Create, customise, confirm, check, and covert estimates.
Expedite estimate approvals.
Gauge customer satisfaction.
Manage recurring expenses.
Eliminate repetitive tasks.
Inventory management, GST, accounting automation, document management, seamless online payments, sending automated reminders, direct payment from client portals, etc. are some other features of Zoho Books.
3. Marg Accounting Software
A role of a chartered accountant is best showcased with programs likeMarg Accounting Software. Features like auto-reconcile transactions from more than 140 financial institutions, online payment option, and report and invoice generating in numerous formats make this software one of the best for small businesses.
Few other features of this software include:
Point of sales provisions like barcode scanning, item-wise default sales quantity, auto-pickup of rates, discounts, and schemes, etc.
Counter sale entry like a counter sale to bill conversion, purchase bill feeding on counter entry, operator-wise counter sales, customer merge provision, etc.
Sales bill attraction like export/import bills items, estimate provision with an advance, provision for barcode billing and printing, loss and margin loss indication, etc.
Other features that Marg Accounting Software provided include credit limits management, sales selection, rate management, discount system, challan management, barcode management, bill printing, and more.
4. QuickBooks
QuickBooks is an accounting software where you can exercise all qualities of an accountant. Along with standard accounting functions, this program boasts features like contacts' data, accounting notes, bills payable, and overdue items.
Other features you receive with QuickBooks include:
Multi-user accessibility with customised permissions.
Track employee time and billing hours.
Cash flow management.
Custom and professional invoicing.
QuickBooks is a cloud-based software app. Hence, you can get access to your financial data anytime and anywhere from your desktop, mobile, or tablet.
Implementing any of these software programs in your small business can help you tap all chartered accountant practice opportunities. You can also opt for a CA loan when buying new equipment for your firm.
5. Oracle NetSuite ERP
Oracle NetSuite ERP is a comprehensive as well as one of the best accounting software in 2021, you can do financing, financial planning, billing, revenue-tracking, accounting. You can maintain all data records by keeping data in cloud.
6. Zipbooks
ZipBooks is a paid accounting software in which you have to pay Rs. 4999 year for a single user. User interface of zipbook accounting software is very unembellished and easy to use. It is complete accounting software designed specifically for small businesses.
These are the list of best accounting software in India 2021, if you need more details on accounting software then do comment or mail us at advcoupons.com. 
Also, Companies like Bajaj Finserv provide Loans for Chartered Accountants up to Rs. 35 Lakh against minimal documentation process and simple eligibility criteria.
Make sure to compare the prices of accounting software in India before you pick one. These programs are licensed-based – you have to pay on a monthly or yearly basis for single or multi-user.